Fit Brains Review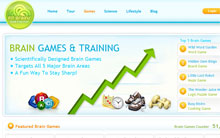 Fit Brains hosts a variety of fun, casual games developed by brain health experts, proven to improve brain function while targeting the five major cognitive brain functions – memory, concentration, language, executive functions (logic and reasoning), and visual-spatial skills.
Fit Brains Background

Fit Brains is designed by
award-winning Neuroscientist
Dr. Paul Nussbaum from University of Pittsburgh and supported by a board of scientific advisors. The team behind Fit Brains has identified the tools necessary to engage and motivate users of all ages, providing individual workouts that can be played alone or against friends and family with leader boards for players in need of a competitive edge.
Brain Training Games

Users' game performance will be integrated into their unique user profile, which will allow them to track progress over time in each of the brain function categories using the site's Brain Charts. Each user profile will offer
personalized brain fitness metrics
and feedback tailored to the individual. They will even be able to
earn trophies and rewards for in-game activities
through the Award System.
The Fit Brains management team and advisory board includes doctors, entrepreneurs, and game-industry veterans who have combined forces with Vivity Labs to produce the highest-quality gaming destination on the web.
Conclusion

Fit Brains' games draw on the expertise of the doctors on its board, as well as the growing body of research in brain science to create gaming experiences that foster positive brain health and function.
The brain has been proven to act like a muscle in the respect that with regular exercise and training, it can become stronger!